Adakah anda masih terfikir-fikir untuk trade bersama XEMarkets? jangan fikir lagi, jom rebut peluang yang tak selalu ada ini.
DAPATKAN 30% BONUS Untuk Setiap Deposit !![/COLOR] Ini peluang dan masa terbaik untuk anda bersama XEMarkets. Biar saya ringkaskan apa BONUS utk bersama XEMarkets.
✔ 30% Bonus Untuk Welcome Bonus Sehingga Jumlah 10K USD
✔ 30% Bonus Lagi untuk Loyalti Bonussehingga Jumlah Bonus 10K USD
Boleh Buka Akaun dari Mana-mana IB atau Lawati [url]http://www.xemarkets.com/my"]www.xemarkets.com/my[/url]
Jenis akaun
http://carigold.com/portal/forums/showpo...count=5692
"]
Cara Buka Akaun
Cara untuk Deposit
---
1) TEKAN DEPOSIT. LEPAS TU PILIH CREDIT/DEBIT CARD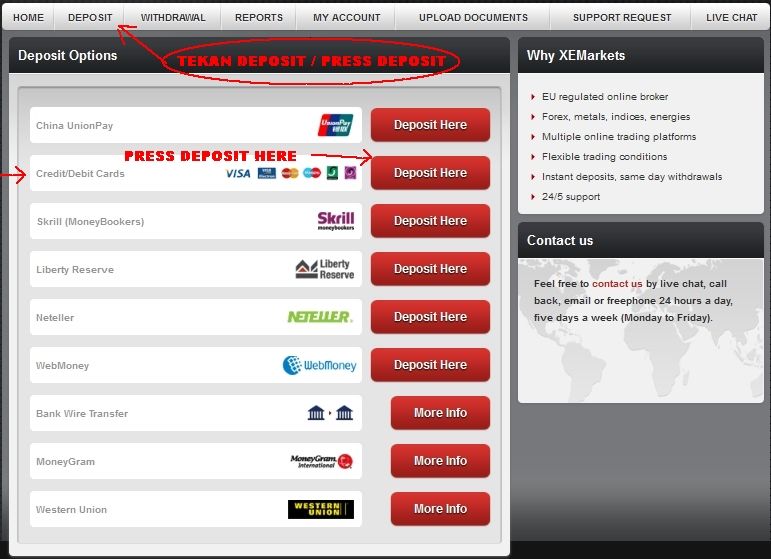 2) AKAN NAMPAK PAGES SEPERTI DI BAWAH. CHECK NOMBOR AKAUN TRADING DAN NAMA. MASUKKAN AMOUNT UTK DEPOSIT. KEMUDIAN TEKAN DEPOSIT.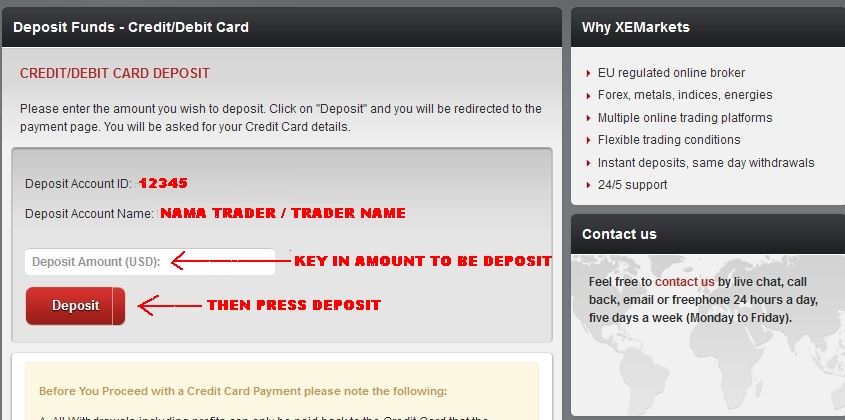 3) AKAN NAMPAK PAGES SEPERTI DI BAWAH. KALAU NOMBOR AKAUN TRADING DAN AMOUNT DEPOSIT BETUL, SILA TEKAN CONFIRM.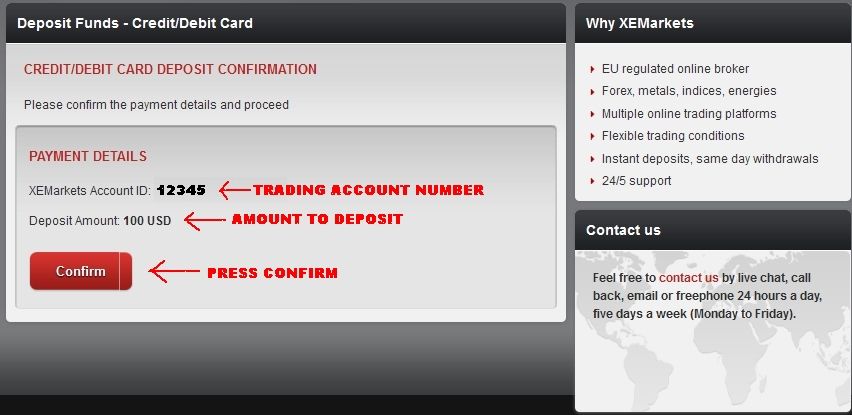 4) AKAN NAMPAK PAGES SEPERTI DI BAWAH.
SILA ISI : 1) NAMA PEMEGANG KAD, 2) NOMBOR KAD (16 DIGIT) 3) NOMBOR CVV2 (NOMBOR 3 DIGIT BELAKANG KAD). LEPAS ISI, TEKAN SUBMIT
5) AKAN NAMPAK PAGES SEPERTI DI BAWAH.
ANDA TELAH BERJAYA DEPOSIT GUNA CARA CREDIT/DEBIT KAD
SEMOGA PROFIT SELALU DENGAN XEMARKETS :)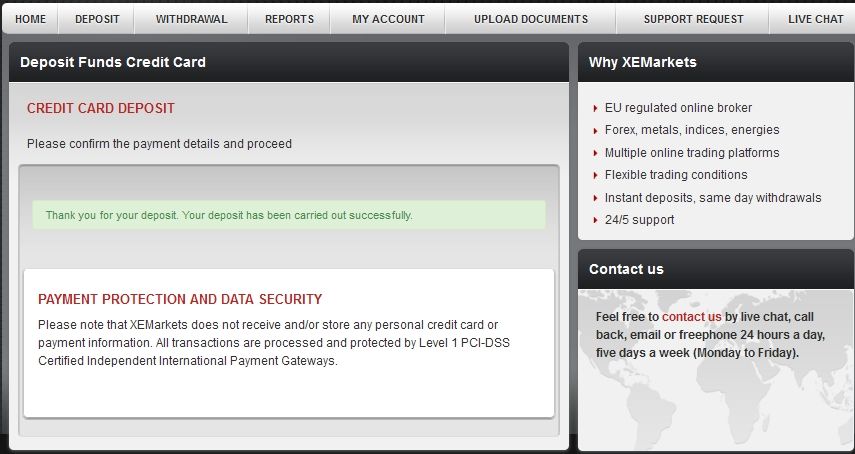 CARA DEPOSIT MENGGUNAKAN LOCAL BANK
LANGKAH 1 : PILIH LOCAL BANK DI BAHAGIAN DEPOSIT
LANGKAH 2 : SILA AMBIL PERHATIAN YANG PIHAK XEMARKETS TIDAK MENANGGUNG CAJ PERMINDAHAN UNTUK AMOUNT DEPOSIT DI BAWAH USD200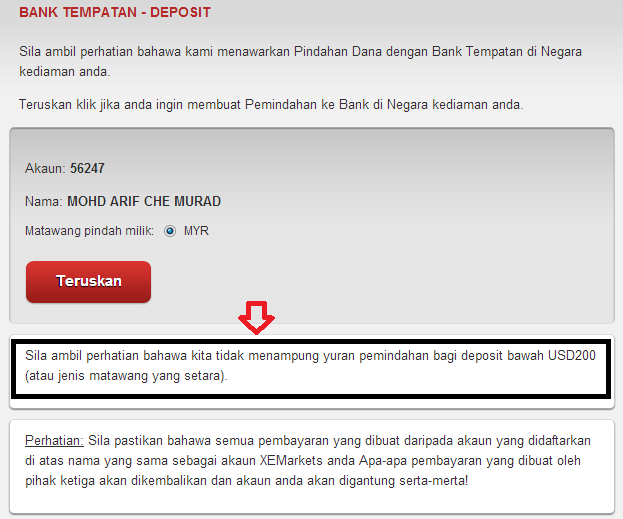 LANGKAH 3 :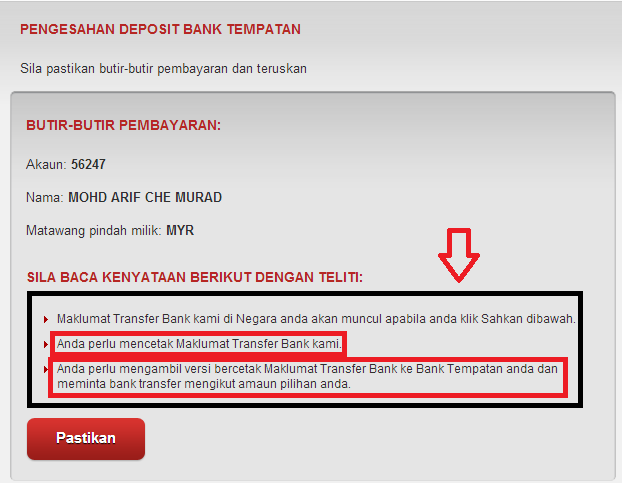 LANGKAH 4 : ANDA PERLU MENCETAK TERLEBIH DAHULU STATEMENT DI BAWAH, DAN BAWA BERSAMA CETAKAN TERSEBUT KE BANK, DAN MINTA PIHAK BANK UNTUK CREDITKAN FUND TERSEBUT KE NO AKAUN YANG TERTERA DI STATEMENT INI.

---
CONTOH CETAKAN :
CONTOH SLIP BANK SELEPAS DI TRANSFER :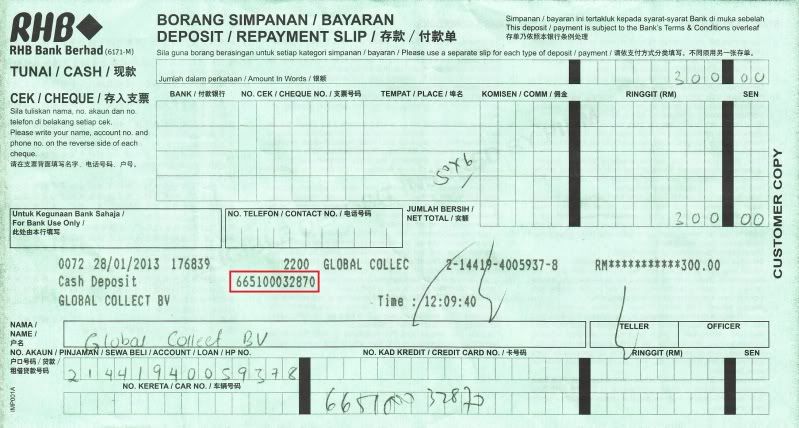 HANTARKAN SLIP BANK & CETAKAN YANG DI BUAT KEPADA
backoffice@xemarkets.com
NOTA PENTING :
PASTIKAN ANDA CETAK TERLEBIH DAHULU STATEMENT LOCAL BANK, DAN BAWA CETAKAN TERSEBUT KE BANK. PASTIKAN DI SLIP TRANSFER TERSEBUT TERTERA REFERENCE NUMBER ANDA.
Contoh pengeluaran melalui Wire Transfer
Proses mengambil masa 2 - 5 hari waktu kerja
boleh rujuk di
http://www.theswiftcodes.com/malaysia/
sini untuk dptkan Swift Code Bank
Untuk deposit pulak letakkan alamat broker di borang wire transfer yg terdapat di mana2 bank
REGULATION AND SAFETY OF CLIENTS' FUNDS
XEMarkets' commitment to business transparency is reflected by the way it operates its financial services in compliance with its regulatory environment. This helps us to sustain quality services for our global clientele in the long run and establish a solid base for clients' trust.
Owned and operated by Trading Point of Financial Instruments Ltd, which is a European Union-regulated broker and a registered
http://www.xemarkets.com/pdf/documents/T...nglish.pdf
Cyprus Investment Firm[/URL] (CIF), XEMarkets
Provides its services according to the strict financial standards prescribed by its chief regulator, the
http://www.cysec.gov.cy/licence_members_1_en.aspx
Cyprus Securities and Exchange Commission[/URL] (CySEC), where it is registered under the license number 120/10;
Is authorized by the
http://www.fsa.gov.uk/register/firmBasic...sid=256859
Financial Services Authority[/URL] (FSA) UK (licensed under 538324)
Has full EU-authorization, including
BaFin
http://ww2.bafin.de/database/InstInfo/in...tId=124161
Bundesanstalt für Finanzdienstleistungsaufsicht, Germany, under registration number 124161,
CNMV
http://www.cnmv.es/Portal/Consultas/Dato...if=CLP2774
Comisión Nacional del Mercado de Valores[/URL]), Spain, under registration number 2010157773,
AFM
http://www.afm.nl/en/professionals/regis...ding+point
Autoriteit Financiële Markten, Netherlands,
FI
http://www.fi.se/Folder-EN/Startpage/Aut...&mode=wide
Finansinspektionen, Sweden,
FIN
http://www.fin-fsa.fi/en/Pages/Default.aspx
Finanssivalvonta Finansinspektionen, Finland;
Embraces the investor protection measures described by the Markets of Financial Instruments Directive (MiFID);
Adopts clear procedures to
http://www.xemarkets.com/pdf/docs/XEMark...zation.pdf
categorize clients and assess their investment suitability for the sake of
http://www.xemarkets.com/pdf/docs/XEMark...losure.pdf
risk management;
Follows a
http://www.xemarkets.com/pdf/docs/XEMark...Policy.pdf
best execution policy for executing trading orders on terms most favorable to clients;
Ensures trading transparency for its financial instruments by providing detailed information about trading conditions;
Collaborates with multiple liquidity providers to offer the best spreads and liquidity at all times;
Follows a no re-quotes and no extra commissions policy that could negatively affect clients' investments;
Complies with the
http://www.xemarkets.com/pdf/docs/XEMark...Policy.pdf
Markets in Financial Instruments Directive (2004/39/EC) for the prevention and suppression of money laundering and terrorist financing.
In the financial industry, the most essential requirement is the safety of clients' funds. This is the reason why XEMarkets follows strict rules to safeguard clients' interests as it
Keeps clients' funds segregated from our company funds, in tier 1 banking institutions and ensures that these cannot be used either by us or by our liquidity providers under any circumstances;
Keeps clients' funds in highly secure global banks with lowest credit risk
Ensures high operation standards by submitting regular financial reports to CySEC and to the company's financial auditor, KPMG;
Provides retail clients with additional protection through the
http://www.xemarkets.com/pdf/docs/XEMark...tement.pdf
Investor Compensation Fund[/URL] in the case of company insolvency;
Uses an automated system for monitoring funds transactions and risk management for the sake of no negative balance, and thus protects clients from any losses bigger than their original investments;
Applies multiple transaction methods for funds withdrawals and deposits that guarantee transfer security and clients' privacy through Secure Socket Layer (SSL) technology.
Selepas updated maintenance, sekarang platform sudah ada 2 server real..
Real 1 > Micro & Real 2 > Standard Account
[center]Untuk mendapatkan 2 server ini platform mestilah di uninstall terlebih dahulu kemudian install semula..
Rujuk gambarajah di sediakan.
XEMarkets mendapat anugerah "Platform With Best Execution" di The 10th China (Guangzhou) International Investment & Finance Expo 2013.



Bantuan Hubungi :

Fauzi - 012.8618356
Arif - 019.3660843
Talian tetap - 03.78315786