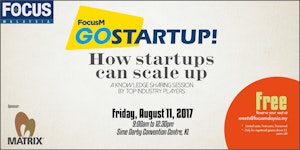 FocusM GoStartup! How Startups Can Scale Up
Venue:
Sime Darby Convention Centre, KL 
           1A, Jalan Bukit Kiara 1, Bukit Klara, Kuala Lumpur, Federal Territory of Kuala Lumpur 60000

Date:   Friday, August 11, 2017 
Time:   9:00 AM to 12:30 PM 
A knowledge sharing session by top industry players

Speakers:

• Managing market disruption
  By Dato' Chevy Beh
  BookDoc founder

• Creating desirability and relevance in brands
  By Fadzarudin Shah Anuar
  FashionValet CEO

• Up and coming technology trends
   By Arzumy MD
   Fave CTO

• Financial management for startups
  By Andrew Tan
  Crowdplus.asia CEO

• Q&A with Nazrin Hassan
   Cradle Fund Sdn Bhd CEO

Free Admission

Reserve your seat now!
* Limited seats. First-come, first-served

* Only for registered guests above 21 years old
Contact us for more details.
events@focusmalaysia.my

Sponsor:
Matrix Concepts Holdings Berhad